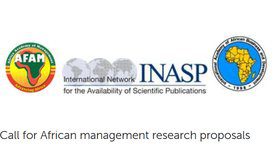 Application Due Date: 30 August 2019
Emerald and AFAM (Africa Academy of Management), in association with INASP and the International Academy of African Company and Advancement (IAABD), are pleased to provide a research study grant for an African task in the field of management research study. The award will provide ₤ 2,500(around US$ 4,000 comparable) to money the winning research study task.
Applications need to resolve the list below style: Promoting a research study culture driven by development and sustainability in Africa.
Eligibility
A minimum of one member of the research study group should be based in Africa.
Evaluating requirements
Each application will be evaluated, by a panel of specialists, on the requirements listed below. The research study should:
Signify, and in specific, show how it will benefit the social excellent
Demonstrate creativity and development
Make an exceptional contribution to theory and its application
Highlight the suitability and application of the approach
Demonstrate noise ramifications for theory and practice
Application requirements
Each proposition should be sent utilizing the online application
The following files will be needed digitally:
A summary specifying particular objectives, results and advantages of the.
research study. This need to not surpass 2,000 words (note that tables,.
figures, appendices and recommendation lists if supplied do NOT count.
towards the 2,000 word overall).
A covering letter including complete contact information.
( association, complete address, telephone number/s and e-mail address).
for all scientists associated with the task. Please state plainly.
which scientist will be the bottom line of contact.
The 2,000 word summary should:
Show plainly a declaration of function and intent
State plainly the approach( ies) used and clearly explain the research study procedure
State anticipated research study results and anticipated effect and possible application
Define the anticipated timescales of the research study procedure
Summary forecasted expenses and overall research study grant needed
Closing date
Please understand that all entries should be published by the online application (see link above) by 30 August 2019 There will be no allowances provided for late entries.
Contact
For additional info please contact:
Talita Opperman
Account Management Executive– Sub Saharan Africa
Email: topperman@emeraldgroup.com
For Additional Information:
Go To the Authorities Web Page of the 2019 Emerald African Management Research Study Fund Award