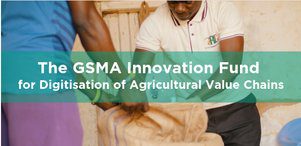 Application Due Date: July 31 st 2019
The GSMA Development Fund for Digitisation of Agricultural Worth Chains intends to scale digital services for the farming last mile and enhance smallholders' monetary addition, income and environment strength.
The Fund prioritises business services targeted at organisations.
( e.g. agribusiness, cooperatives, and so on) obtaining from smallholders with.
the concentrate on those surviving on less than USD 2 daily.
As much as 8 grants of ₤220,000 each are being provided to.
assistance jobs of 24 months period. In addition, the GSMA will.
offer in-kind assistance and consultancy to help the advancement of.
service strategies, and service execution through marketing research,.
user-centric style, service intelligence, user-testing with.
agribusiness personnel and smallholders.
Applications for moneying throughout both classifications are evaluated through a two-stage application procedure.
Idea Note: The primary step will be to send a.
Idea Keep in mind, which lays out the job goals, lists proposed.
partners, shows the consortium's capability to provide the job.
and describes how the job fits within larger method of business.
owner.
Organisation Strategy: A short-list of candidates whose.
Ideas Notes satisfy the goals and eligibility requirements of the.
Fund will be welcomed to establish a Company Strategy which will even more.
lay out the method for carrying out and scaling the service; offer a.
budget plan forecast with an indicator of how the grant is to be invested,.
and a workplan for the 24 month execution duration.
All qualified candidates at Idea Keep in mind phase, regardless of.
whether they eventually get grant under this Development Fund, will.
be welcomed to sign up with the GSMA AgriTech Concern Knowing Partners.
Effort, where they will get to a variety of understanding sharing.
resources and occasions, consisting of webinars on the subject of business.
services for the last mile.
For Additional Information:
Check Out the Authorities Website of the GSMA Development Fund for Digitisation of Agricultural Worth Chains