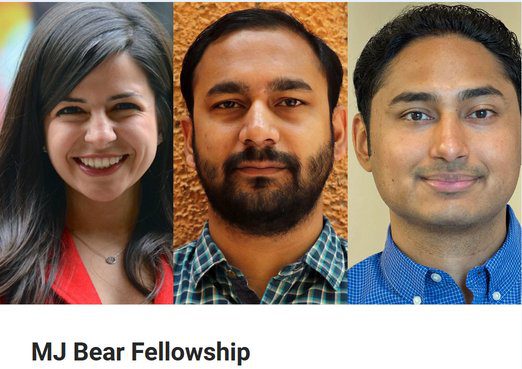 Application Due Date: July 11, 2019
The MJ Bear Fellowship recognizes and supports digital reporters under 30 whose work represents the very best of digital news. In 2019, ONA will choose 6 fellows from worldwide who are up-and-coming reporters and leading ingenious digital journalism jobs.
The 1 year fellowship is created to offer assistance and assistance to early-career reporters on a digital journalism task along with their own expert advancement. Jobs may consist of a distinct method of taking a look at news protection, imaginative information visualizations, intrapreneurial or entrepreneurial efforts, brand-new efforts in video, or other digitally-focused techniques to news protection.
Eligibility
The fellowship is open to working reporters under 30 who are.
leading a digital journalism task. Candidates in 2019 need to be born.
in between Sept. 15, 1989 and Sept. 14,1996 Candidates can be working.
either for a business or company or be self-employed. ONA motivates.
freelancers and reporters from varied backgrounds to use.
Full-time trainees are not qualified for this fellowship.
The fellowship offers:
Speaking chance at ONA's yearly conference. Fellows make.
acknowledgment at digital journalism's biggest occasion and take part in a.
panel conversation to share their work. The fellowship covers.
registration, travel and lodgings for ONA19, Sept. 12–14, in New.
Orleans.
3 customized training sessions. Based upon the jobs that.
fellows are dealing with and the abilities they are wanting to construct, ONA.
deal with market leaders to develop customized training sessions for the.
group. Previous sessions have actually covered subjects such as pitching jobs,.
stories and oneself; profession improvement in an altering world; audience.
engagement; marketing and entrepreneurship.
ONA subscription, with 3 year's fees paid completely.
Extra chances to display work and knowledge.
Throughout their fellowship year, fellows share insights from their.
jobs and profession journeys on ONA's site. These insights end up being.
evergreen resources for the digital journalism neighborhood. See what fellows have actually been dealing with
Timeline
June 4, 2019: Applications open
July 11, 2019: Applications close
Mid-August 2019: 2019 fellows revealed
Sept. 12–14, 2019: ONA Conference & Online Journalism Awards Event
Spring 2020: Training sessions
Summer Season 2020: Fellows share insights on journalists.org
To Find Out More: