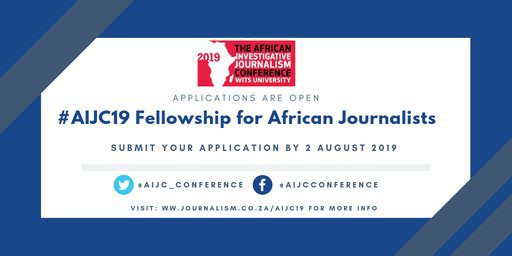 Application Due Date: August second, 2019
The African Investigative Journalism Conference (#AIJC19) is the leading yearly event of African investigative press reporters– a three-day worldwide conference for and about investigative journalism. It includes abilities training, networking, cooperation and extensive accounts of significant investigative stories. It is hosted by the University of the Witwatersrand, Johannesburg.
This year's conference will include more than 50 speakers in.
workshops, panel conversations and networking sessions, along with abilities.
training in locations such as innovative information analysis and security. Secret.
speakers consist of acclaimed reporters from throughout the world, and.
Africa's finest. This is an opportunity to hear and satisfy those leading the field.
and boost your abilities with the current tools and suggestions.
In 2019, with the assistance of our sponsors and partners, we have a spending plan to bring 40 African reporters to Johannesburg for the conference. Places are open to print and transmit reporters with a tested performance history in investigative journalism, who wish to establish their investigative abilities and gain from other African and worldwide reporters. Fellows will be needed to either produce a story or do a discussion in their house nation, based upon knowings from the conference.
Advantages
The bursary will cover flights to Johannesburg, airport transfers in Johannesburg, lodging, transportation to and from the conference, meals and conference costs. It does not cover home-country transportation, visa expenses or a daily.
Application Treatment:
To use, compose a brief inspiration (optimum 500 words) and send it.
with your CV and a minimum of one example of your released or relayed.
work (ideally a link) to [email protected]
Applications close on August second,2019 Effective candidates will be informed by e-mail by August 30, 2018.
Note: The conference will be carried out in English and there will be no translation
To Learn More:
Go To the Authorities Web Page of the African Investigative Journalism Conference 2019 Bursary for African Reporters