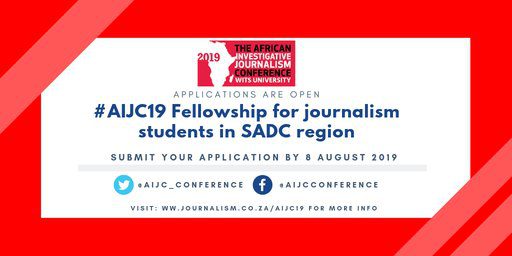 Application Due Date: 8 August 2019
The African Investigative Journalism Conference is a yearly occasion arranged by the Journalism Program of the University of the Witwatersrand(Wits University) in Johannesburg, South Africa. It is Africa's premier investigative journalism conference. The conference provides African and global investigative reporters a chance to find out brand-new abilities, find out about the leading investigative stories and share experiences.
The African Investigative Journalism Conference (#AIJC19) is the leading yearly event of African investigative press reporters– a three-day global conference for and about investigative journalism. It includes abilities training, networking, promoting, updates on cutting edge tools, cooperation and extensive accounts of significant investigative stories. It is hosted by the University of the Witwatersrand, Johannesburg.
This year's conference will include more than 50 speakers in workshops, panel conversations and networking sessions, in addition to abilities training in locations such as innovative information analysis and security. Secret speakers consist of acclaimed reporters from throughout the world, and Africa's finest. This is a possibility to hear and satisfy those leading the field and improve your abilities with the most recent tools and suggestions.
At AIJC2019 there will be chances to hear a few of the very best investigative reporters in Africa discussing their stories and sharing their abilities. We have actually welcomed a variety of global speakers, and we will offer courses in a variety of abilities crucial for all finishing reporters. Even more, we will be running a trainee's newsroom throughout the conference, where they will do online and social networks protection, and add to our conference edition of the school paper, Vuvuzela, under the guidance of tutors.
Requirements:
Just trainees presently in their last year of an undergrad.
journalism degree, honours or master's degree in journalism are qualified.
to request a bursary to go to the conference.
Advantages
In 2019, AJIC19 have 10 fully-funded locations for journalism trainees from the SADC area ( Angola, Botswana, Comoros, Democratic Republic of Congo (DRC), Lesotho, Madagascar, Malawi, Mauritius, Mozambique, Namibia, Seychelles, eSwatini, Tanzania, Zambia and Zimbabwe)
The bursary covers your travel expenses to the conference and return; your hotel lodging in Johannesburg, meals, conference charges and ground transportation to and from the conference.
Application Treatment:
To request a location, send your CV and a covering note from your head.
of department or equivalent, and an inspiration of not more than500
words to [email protected] by Thursday 8 August 2019 All applications will be acknowledged on invoice and a decision on locations will be made by Friday 30 August 2019.
To Find Out More:
Go To the Authorities Website of the African Investigative Journalism Conference 2019 Bursary