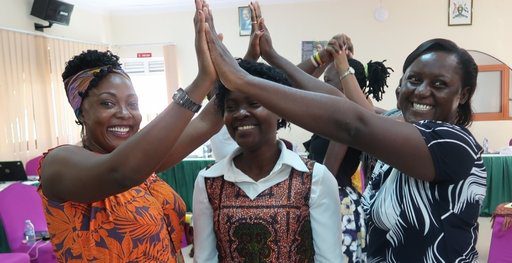 Application Due Date: July 31 st 2019
Akina Mother wa Afrika (AMwA) with assistance from UN Women Uganda welcomes applications from girls leaders for the Girl in Management and Mentorship Program, a Feminist and Transformational Management program to be held under the auspices of the African Women's Management Institute (AWLI). The AWLI is an area for catalyzing and supporting feminist and transformational leaders to advance gender equality and females's empowerment on the African continent and beyond.
The Akina Mother wa Afrika– African Ladies's Management Institute was.
birthed in 1997 and is based upon a long standing design of POT (Personal.
Proficiency, Organizing Abilities and Doing Something About It), a structure that offers.
an effective and holistic feminist grounding for African females to specify,.
examine and articulate their experiences of inequalities and create.
services for continual modification.
This particular Feminist and Transformational Management program targets vibrant girls in all their varieties consisting of in a different way abled females, LBQ females and females impacted by HIV/AIDS, thinking about enhancing their management abilities, feminist analysis and motion structure abilities that will allow them to efficiently activate an emergency of feminist and transformational leaders to change power relations in between females and guys by attending to the source of gender inequality.
Eligibility Requirements
Applications are for that reason welcomed from females leaders aged in between 18-40 based in Uganda, who have actually exhibited management in their companies, neighborhoods and or have actually meant optional workplace.
The program incorporates a compulsory 5 (5) day domestic training and a 1 year mentorship to which candidates ought to be completely devoted. Candidates need to be passionate about carrying out a social action job in their neighborhood.
The domestic training will be held from the 25 th– 30 th August 2019, in Kampala, Uganda.
Candidates are likewise needed to prepare informative short articles (minimum 600 words) on the style: Advancing Women's Rights in Uganda to.
be sent at the time of application. Articles can concentrate on the.
style from an individual or organisational stand-point and will be.
established for publication later on. We are welcoming vital analyses.
and referenced short articles; case research studies, viewpoint pieces; poems; vlogs;.
video stories; picture essays; animations; and more.
How to use: An application is readily available at this link.
For Additional Information
Go To the Authorities Web Page of the AMwA Young Women in Management and Mentorship Program 2019