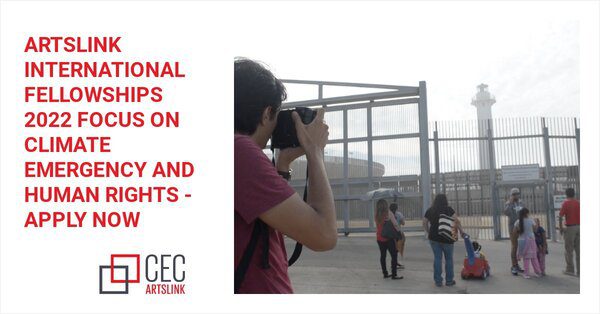 Application Deadline: December 30th, 2021
The ArtsLink International Fellowship Program prioritizes applicants whose social practices seek to actively engage communities on issues related to the current climate emergency and human rights. Artlinks will actively encourage artists and arts leaders whose work is making a vital contribution to furthering people's awareness, understanding, and active participation in environmental and/or social justice issues.
Eligibility
CEC ArtsLink will accept applications from contemporary artists, curators, and arts leaders whose work is informed by community engagement processes or social practice. Applicants must be citizens of one of our network countries. If you are living outside the region temporarily, please contact CEC ArtsLink staff to discuss your eligibility. There are no age limitations. Applicants must have sufficient knowledge of English to function independently in the US.
Undergraduate students, non-professionals and research scholars are not eligible. Arts leaders/curators must be affiliated with an arts organization in the non-commercial sector or work as individual independent arts professionals. Artists seeking placement in commercial firms are ineligible. ArtsLink International Fellows from prior years cannot re-apply. 
Eligible Countries

Applicants must be citizens of one of the following countries and regions: Afghanistan, Albania, Armenia, Azerbaijan, Belarus, Bosnia & Herzegovina, Bulgaria, Croatia, Czech Republic, Egypt, Estonia, Georgia, Hungary, Israel, Kazakhstan, Kosovo, Kyrgyzstan, Latvia, Lebanon, Lithuania, Moldova, Mongolia, Montenegro, North Macedonia, Palestine, Poland, Romania, Russia, Serbia, Slovak Republic, Slovenia, Syria, Tajikistan, Turkey, Turkmenistan, Ukraine, Uzbekistan.
Schedule
All Fellows must be able to accommodate this residency schedule:
Year 1: ArtsLink International Fellows undertake a a six-week virtual research/networking residency from early October to mid-November.
Year 2: ArtsLink International Fellows travel in early October to mid-November to be in residence with their US host organization to continue in person research or develop a specific project in partnership with local collaborators. In mid-November all Fellows travel to New York City to share their practices and experiences and network with Fellows, CEC ArtsLink staff and other colleagues.
Year 3: ArtsLink International Fellows propose a project in their home country with collaboration from the US for consideration by CEC ArtsLink as a co-producing partner.
Benefits
ArtsLink International Fellowships awards offer an initial honorarium to Fellows and US hosts to cover the research residency and support for the subsequent project in the US to cover visa and travel, food and lodging, health insurance, and up to 50% of production costs.
Application
Applications are reviewed by an independent panel of artists, presenters, and arts administrators from the United States and our network countries including people who have experience working in the eligible regions. The composition of the panel changes every year.
The selection panel meets 8-10 weeks after the application deadline. Written material is sent to the panelists one month before the meeting.
All work samples are reviewed during the two-day meeting. Applications are evaluated according to the review criteria in the guidelines.
For More Information:
Visit the Official Webpage of the ArtsLink International Fellowship Program