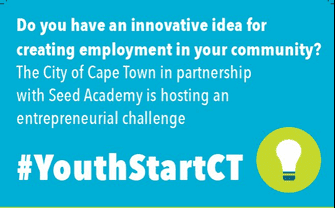 Application Due Date: Sunday, 19 May 2019
The YouthStartCT Obstacle is a start-up program which intends to add to abilities advancement and development, in addition to motivating entrepreneurship in Cape Town.
YouthStartCT desire you to share your finest entrepreneurial concepts for increasing work in your regional neighborhood. In exchange, we will supply training and advancement chances for start-ups and the total winner will be offered the possibility to partner with the City on jobs that benefit jobseekers and supply long-lasting job opportunity.
How it works
Business Owners.
send their organisation concepts in between Thursday, 18 April– Sunday, 19 May.
2019 Every entry will be evaluated according to the following requirements:
Hydroponics organisation concepts (growing plants and herbs that do not depend on water or soil)
Mobile application advancement (utilizing innovation to assist avoid online frauds and theft of individual details)
Social advancement organisation concepts (upliftment jobs that can increase work and upskill regional skill)
Water conserving organisation concepts (ingenious methods to protect Cape Town's supply of water).
The top 100 entrants will be.
informed by e-mail by Saturday, 25 May 2019 and will be used training.
and mentoring workshops to more establish their concepts.
They.
will be needed to pitch their concepts to a panel of judges in between.
Wednesday, 29 May– Saturday, 22 June and a variety of entries will be.
removed from the competitors weekly.
The winner, together with 2 finalists, will be revealed at a gala supper on Tuesday, 25 June.
How to go into
Develop a 3 minute video discussing your concept, with as much information as possible.
Submit the video to a public video platform such as YouTube. Ensure you take down the URL as you will require to include it in your entry kind.
Total the YouthStartCT entry kind
Send your entry by Sunday, 19 May 2019.
For More Details:
Check Out the Authorities Web Page of the City of Cape Town YouthStartCT 2019