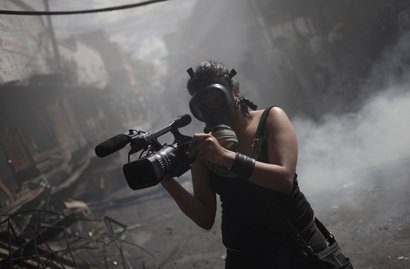 Application Due Date: June 24, 2019 at 5: 00 pm EST.
.
With generous assistance from the James W. Foley Tradition Structure, the Rory Peck Trust, and the ACOS Alliance, the Dart Center will be providing its yearly four-day crisis zones reporting course to 16 freelance reporters at no charge.
Covering crisis provides a few of the most significant obstacles in the journalism occupation. Press reporters should make fast choices on whether to rely on a translator or drive down a harmful roadway. This course will teach you how to run with care in unpredictable circumstances, with a focus on disputes.
The training is likewise pertinent to operating in natural catastrophe circumstances such as earthquakes, typhoons, and tsunamis. While a lot of hostile environment training for reporters handle ducking crossfire and abductors, this course will teach you how to prevent unneeded hazard through preparation and preparation in the past, throughout and after tasks. Individuals will emerge from the course with a much better understanding of how to employ fixers, avoid assaulters and secure their digital footprints.
Professional fitness instructors will supply direction in the following locations:
Danger evaluation: making the right choices prior to and throughout an.
project, setting limitations, sound practices amidst riots, snipers, mines,.
shooting, obstructions, moles and basic chaos.
Digital.
Security: protecting delicate computer system information and interacting with.
others in a protected way. Coding, file encryption and cloud computing abilities.
are taught.
Emergency situation emergency treatment: tourniquets, triage, fractures and bullet injuries.
Injury awareness: psychological self-care while covering uncomfortable stories.
Rape/sexual attack avoidance: setting limits, postponing methods, standard self-defense and recovery.
Lead Trainer: Judith Matloff, accessory professors, Columbia Journalism School and previous dispute reporter with more than 30 years of experience. The course will be held October 24 — 27, 2019, at the Columbia Journalism School in New York City City.
All program sessions are carried out in English. Individuals should be proficient in spoken English.
APPLICATION INFO
The application due date is June 24, 2019 at 5: 00 pm EST. Click on this link to use now.
The course charge– frequently $1175 USD– has actually been financed by the James W. Foley Tradition Structure, the Rory Peck Trust, and the ACOS Alliance. For that reason.
accepted candidates will not be accountable for any tuition costs to.
go to the course. Nevertheless, all individuals will be accountable for.
their travel, accommodations, ground transport and meals.
Sixteen freelance reporters from worldwide will be confessed.
Involvement is open to freelance reporters just.
For Additional Information:
See the Authorities Website of the Dart Center 'Reporting Securely in Crisis Zones' 2019 Course