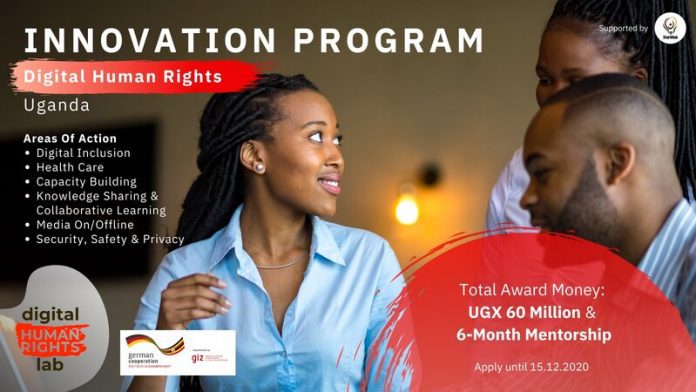 Application Deadline: December 15th 2020
The Digital Human Rights Lab Innovation Program aims to create digital solutions for Human Rights Defenders to execute their work in better, more efficient and more secure ways. In order to implement these solutions, your motivated team can apply with a digital idea, project or approach to win up to 60.000.000 UGX in total and qualify for the following 6-month Mentorship Program.
The Digital Human Rights Lab (DHRLab) is a virtual and physical space at the intersection of human rights and digital transformation. It is an open network of actors from Ugandan civil society that seek to strengthen and promote human rights in a digitalised world. The DHRLab bundles knowledge and expertise connects organisations and engaged individuals and supports innovative ideas to utilise the potentials of digitalisation for human rights work.
Call for Ideas
If you have an idea, solution or approach to improve human rights work, your team (2 – 5 people) can apply until 15th December 2020 (11:59pm EAT) via the application form. Your idea can refer to one of the 6 Areas of Action or propose a new Area of Action themselves and can be submitted at any stage of development – whether you are at the idea stage or have already developed and rolled out a plan.
*We highly encourage women or people belonging to minority groups to apply.

Design Sprint
After the Call for Ideas 10 teams get pre-selected to join the 3-Day Design Sprint. You will work together with trained coaches for 3 intensive days (in January) to develop, refine and redesign your idea, solution or approach.
Pitch Event
At the Pitch Event (in February) the 10 teams present their ideas, solutions and projects. Based on common selection criteria, the jury selects 4 winning teams which will receive the grant and further support in terms of a 6-month Mentorship Program.
Mentorship Program
In the following 6 months after the Pitch Event, experienced mentors will support the 4 winning teams according to their specific needs.
For More Information:
Visit the Official Webpage of the Digital Human Rights Lab Innovation Program 2021