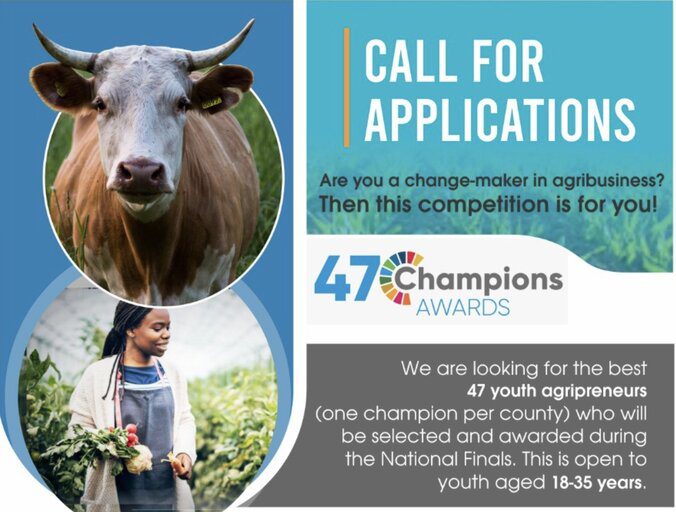 Application Deadline: November 30th 2020
Kenya Climate Innovation Center (KCIC) in collaboration with Food and Agriculture Organization of the United Nations (FAO), Youth Enterprise Development Fund (YEDF), Ministry of ICT, Innovation and Youth Affairs and GIZ have launched the 47 Champions Awards.
The nation-wide competition is aimed at promoting youth employment in the agricultural sector by fostering role models of youth agripreneurs who are willing to work with and support other youth through knowledge-sharing, capacity building and mentorship.
Requirements

The consortium therefore invites youth aged 18-35 years to take part in the 47 chanpions awards 2020. all applications will be screened through a transparent process.
Through the 47 champions awards, the best 47 youth agripreneurs (one chamion per cpunty) will be selected and awarded during the National Finals. The award package includes study tours, opportunities to attend technical training, mentorship support, exhibitions of agricultural products and policy dialogues related to youth employment in agriculture.
For More Information:
Visit the Official Webpage of the FAO/Kenya Climate Innovation Center (KCIC) 47 Champions Awards