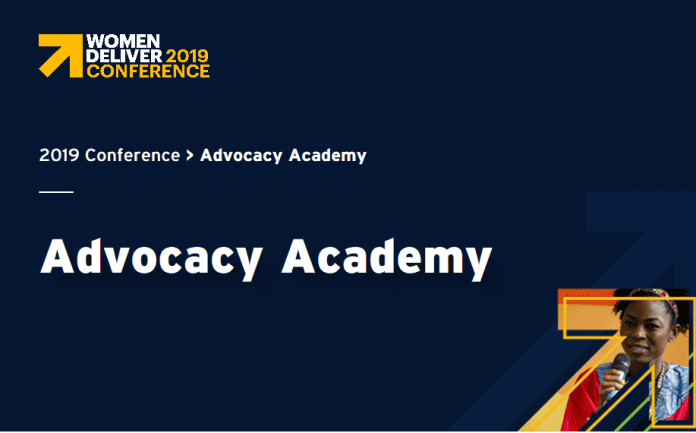 Application Due Date: WEDNESDAY, 20 FEBRUARY 2019
Females Provide is thrilled to introduce the Advocacy Academy: 3, brand name brand-new advocacy skill-building chances specifically for Females Provide 2019 Conference registrants!
Led by a few of the world's leading supporters for gender equality and.
women' and females's health and rights, these sessions will assist emerging.
supporters hone abilities, construct connections with allies and peers, and.
practice tested approaches for policy modification. They'll likewise gear up supporters.
with tools and strategies to take advantage of the Females Provide 2019 Conference.
to construct and grow collaborations, and advance tactical advocacy.
efforts.
1) Intro to Advocacy: An online course you.
can take at your own rate, open up to all conference registrants. The.
course will present you to essential advocacy terms, tools, and strategies.
to set the ground work for developing reliable, targeted, and impactful.
advocacy techniques. Conference registration needed to take part. * Coming early 2019!
2) Interactive Webinars: Live, intimate, and.
interactive online finding out chances where supporters can hear.
viewpoints and find out finest practices from coworkers leading advocacy.
efforts all over the world. Involvement in webinars will be topped.
to make sure discussion and shared finding out chances. Webinars will be.
carried out in English, French, and Spanish. Conference registration needed to take part. * Coming March 2019!
3) In-person Skills-Building Workshop at the Females Provide 2019 Conference: 2 day, in-person workshop from June 2-3 in Vancouver, simply ahead of the Females Provide 2019 Conference. Supporters will practice strategies and methods to advance their advocacy efforts and fine-tune an individualized advocacy technique in a series of hands-on, interactive lessons and activities.
Individuals will be picked through an application procedure. The in-person workshop will be carried out in English with choose French and Spanish translation. Conference registration needed to take part. * APPLICATION OPEN NOW!
Application Treatment:
Applications are due by WEDNESDAY, 20 FEBRUARY. Candidates will be alerted of approval in early March.
Conference registration is REQUIRED to take part in the.
Advocacy In-Person Workshop. Those accepted to take part in the.
workshop will be needed to send evidence of conference registration by.
10 March or their area will be surrendered. There are no scholarships or.
moneying readily available to support conference registration, travel, or.
involvement in the Advocacy Academy in-person workshop.
Applicants will be needed to supply background and group.
details, evaluate their advocacy background and abilities, and response.
short-answer concerns on their existing advocacy experience and work.
Applicants will be examined on the following factors to consider:
Level of advocacy experience— the Advocacy Academy In-Person Workshop is created to construct abilities of supporters who are more recent to the field
Age— the Advocacy Academy In-Person Workshop is open to any ages, however is created with Supporters 30 years of age and older in mind
Present and future engagement in advocacy work–.
the Advocacy Academy In-Person Workshop is created to assist supporters.
establish an individualized advocacy technique that they can take house and.
carry out
For More Details:

Check Out the Authorities Website of the Females Provide 2019 Conference Advocacy Academy