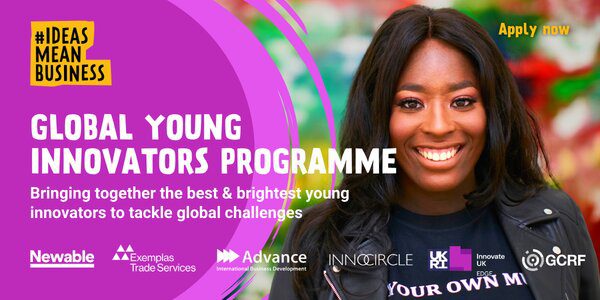 Application Deadline: January 12th 2021
Innovate UK EDGE are bringing together the best and brightest young innovators to tackle some of the biggest challenges facing our generation. Innovate UK EDGE are bringing together the best and brightest young innovators to tackle some of the biggest challenges facing our generation.
The Global Young Innovators Programme offers 60 forward-thinking, entrepreneurial minds from across South Africa and the United Kingdom (UK), a platform to join forces, ignite ideas and co-design solutions that can help solve some of the greatest challenges facing our global community.
Providing mentorship, industry leading training and the chance to pitch for one of 15 R200,000 funding grants, this bespoke 3 to 9-month programme is designed to connect and equip you with the resources needed to bridge the gap, and transform your idea into a viable business.

We are now calling South African young innovators (aged 18-30) willing to rise to the challenge and collaborate with inspirational, like-minded entrepreneurs in the UK to form ground-breaking projects and be a force for positive change.
How does the programme work?
Phase 1 on 18 January – 19 March 2021: 
60 Young Innovators selected, 30 from South Africa and 30 in the UK.
Five-Day Virtual Bootcamp  
Spark innovative ideas, find collaborators and unleash your entrepreneurial thinking during this intensive Bootcamp. Supported by global challenge thought-leaders, you'll leave with new ideas to explore and team up with a UK innovator to build your cooperative project.

Global Peer-to-Peer Collaboration
Peer learning and collaboration between the young people of South Africa and UK is a cornerstone to help tackle global challenges, make a big impact on South Africa's future and realise new ideas for positive global change.
Collaborate and partner up with like-minded innovators from the UK. After the Bootcamp, you'll work in pairs on a weekly basis to turn your idea/project into an actionable plan, business plan and Seed Funding Grant application. Work together on your project, find solutions, broaden your understanding of global challenges and bring your ideas to market.

Mentoring

Your highly experienced Innovation Champion and Mentor will support your joint project every step of the way. Providing crucial pre-start-up and early-stage business support, from developing a credible business plan, business modelling, market analysis, financial planning to sales.

Fast-Track Innovation Webinars
Discover a proven 6 stage framework to launch new innovative products or services, with step-by-step guidance from leading innovation experts. Designed to equip young entrepreneurs with go-to-market know-how, this webinar series will share strategies to validate your product/market fit with real customers. 
Five-Day Pitch & Seed Funding Bootcamp
Attend comprehensive training on day 1 and 2, designed to get you pitch-ready. We'll help you build a clear, compelling and credible pitch to articulate your value proposition/idea to attract buyers, partners and investors. Gain the tools needed to deliver an elevator pitch, 7-minute pitch and slide deck, with peer-to-peer and real-world investor feedback.
On day 4 and 5, pitch your joint project for seed funding to a 5 Global Challenges Sustainable Development panel of judges. 
Phase 2 on March 19 – 30 September 2021: 
15 projects selected from joint collaborations between 30 Young Innovators.
Access Grant Funding
Up to 15 projects generated by 30 Young Innovators will receive an average of R200,000 in grant funding, announced on the final day of the Pitch & Seed Funding Bootcamp.

Support to start-up and grow
Over 6-months, work closely with your Mentor and project partner to effectively invest the funding and develop your idea into a viable start-up business. Your Mentor will share practical business advice, make networking introductions and help you access additional resources, support & funding.  

South Africa Field Visit
Pending COVID-19 restrictions in 2021, the seed-funding award-holders will have the opportunity to explore their project impact further, meet their UK collaboration partner and fellow young innovators with a site visit in South Africa.
Who should apply? 
South African entrepreneurs, leaders and founders, aged 18-30 years
With an innovative idea or early-stage solution to address one of the five global challenges
Eager to collaborate with a UK Young Innovator on a joint project 
Have access to a stable broadband and internet connection
Applicants must be willing to commit to:
Attend all key programme dates (see below)
Fully engage with the programme's package of support, including leveraging their project mentor
Work collaboratively with other South African and UK innovators
Share their journey and build their profile as a role model through participation in case studies, blogs, video content and PR activity
For More Information:
Visit the Official Webpage of the Global Young Innovators Program 2021– South Africa