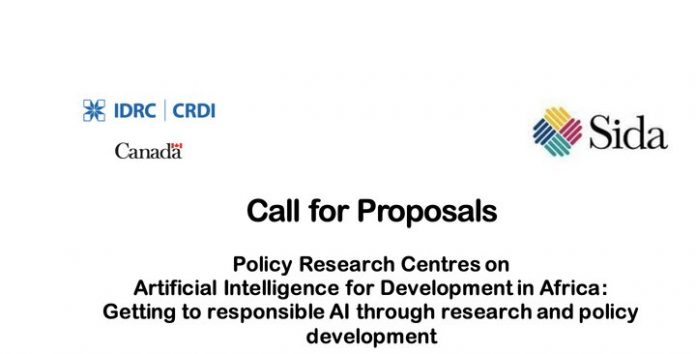 Application Deadline: November 4, 2020.
The International Development Research Centre (IDRC) and the Swedish International Development Agency (Sida) invite proposals from independent policy research organizations from across the African continent that are committed to using research to inform and influence national-level artificial intelligence (AI) policies and research ecosystems. This funding opportunity will provide funding to two (2) AI policy research organizations representing distinct linguistic regions (anglophone and francophone).
Requirements:
This call for proposals is open to established research organizations from eligible countries across the African continent with strong research and policy engagement track records in the subjects that are critical for responsible AI. Only institutions that meet the eligibility criteria outlined here should submit proposals for possible funding.

Institutions must at the minimum:
Be legally registered in the country of operation;
Have and provide audited financial statements;
Have a Board of Directors and a chief executive that is accountable to the Board;
Have ethics protocols in place for research;
Have the ability to convene researchers from other countries in the region;
Be a non-governmental, non-profit independent organization;
Not depend exclusively on the government for funding;
Carry out policy-oriented research;
Carry out "multi-sector" research on advanced technology policy issues that brings together social and economic policy issues.
SCOPE
The aim of the AI4D Africa initiative is to ensure that policymakers across Africa can find and leverage state-of-the-art, objective and high-quality AI-related policy research that will inform decision-making on key responsible AI policy issues. In turn, this will allow communities across the continent to benefit from the opportunities that AI offers, including improved health, agriculture, governance, education and economic prospects, while being shielded as much as possible from the potential harms of AI.
RESEARCH AREAS
Policy and research themes can include (but are not limited to):
Enabling beneficial AI research and development
Economic impacts, labor shifts, inequality, and technological unemployment
Accountability, transparency, and explainability
Surveillance, privacy, and civil liberties
Fairness, ethics, and human rights
Diversity and gender equality
Data capacity, analytics, protection and governance
Political manipulation and computational propaganda
Human dignity, autonomy, and psychological impact
AI
HOW TO APPLY
Proposals will be submitted via baobab.ai4d.ai. You will need to create an account, which will allow you to access your application as many times as you need until you decide to submit. You will also need additional information and documentation to complete the proposal, including examples of your research and policy work and the CVs of your research team.
The proposal and all requested supporting materials must be submitted through baobab.ai4d.ai no later than 
23:59 EDT on November 4, 2020.
For More Information:
Visit the Official Webpage of the IDRC/SIDA Call for Proposals