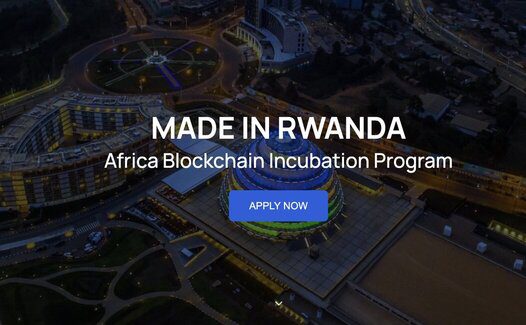 Application Deadline:January 29th, 2021
This is a structured Incubator Program focused on grooming the African Blockchain StartUps. This time, the theme will be focused on: "Made in Rwanda," to spark creativity and ideas implementation around Distributed Ledger Technologies, currently missing or insufficiently present in the Local Innovation and Entrepreneurship Landscape.
Qualified candidates will be nurtured for through a structured 4-Month course of Workshops, Training, Development, Mentor Sessions and Community Events, through facilitating connections with Investors and leading Blockchain Experts.
The Incubation Program will support and develop these solutions-turn-to-StartUps in growing their business, strengthening their commercial viability and increasing their competitiveness in domestic and international markets. Ultimately placing Africa as not only a technology recipient, but also a major actor.

The Africa Blockchain Incubation Program is the combination of the following areas:
Blockchain Technology – provides overall insight into blockchain technology and connections with the industry.
Business Education – this section provides business knowledge, industry connections and introduction to investors. This allows access to a wide network of connections and investors to fund & mentor their project.
At the end of the incubation period, participants will have built a StartUp, access to align partners for possible proof of concept co-design, and being connected with investments.
Focus Areas
Healthcare
Currently, we are in the era of Pandemic COVID-19, and Africa is lacking when it comes to keeping Health records, and solving counterfeit Pharmaceutical supplies. This is really affecting negatively health cases on the continent, but with a Blockchain solution, these problems can be reduced, plus building infrastructure supports for the distribution of COVID-19 Vaccines.
Agriculture
Commodity trading is very important for farmers, especially in most parts where they have been deprived their profits, and benefits, from their hard labour. Through a Blockchain based Commodity platform, this problem amongst others can be solved.
e-Commerce
Solving the problems around e-Commerce is enormous from payment, to deliveries, inventory, amongst other. Now, being a growing sector in the economy, building a Blockchain solution to solve these problems will greatly bring more revenue, and seamless services.
eSporting
Blockchain in Sports enhance fan interaction, streamline existing operations, and provide new revenue models. We raised this focus area, using local sporting teams as case study. Many people most times ignore them due to several reasons, but with the Blockchain Technology it opens up more opportunity for both the team, and fans, gearing more interest, and re-establishing the trust.
Financial Inclusion
The current challenges of traditional payment gateways possess more threats to businesses, also excluding others from access to financial services. With Blockchain Technology, that gap can be bridged with decentralized solutions.
Incubator Stream Features
The Blockchain Incubator Stream offers a robust set of resources for new founders to use to launch and scale a Startup.
Platform Support
Product development support from leading blockchain platform providers.
Business Guidance and Investor Access
Meetings with a group of highly successful entrepreneurs and investors with expertise in scaling high-tech startups.
Access to Economists
Marketplace and incentive design advice from world-leading economists.
Business Support
Business development support from top-ranked Experts at the African Leadership University.
Demo Day
The program concludes with a Demo Day providing startups the opportunity to pitch their business to investors, experts, and the Blockchain community.
Admission Criteria
We are looking for ambitious individuals that are forward thinking, innovative, and ready to take up challenges in creating the next Big Thing. These individuals must be dedicated, and committed to the project, hardworking, and with strong backgrounds in computer science (with expertise in languages such as C++, Javascript, Python, and Solidity is an asset), mathematics, statistics, business/entrepreneurship, economics, cryptography, blockchain, and any other related fields.
More specifically:
A Citizen of the Republic of Rwanda.
Priorities are given to Female Applications.
Ages: 20 – 35 years
Both idea stage and early-stage (1 year) companies are encouraged to apply.
Strong business case and market potential.
For More Infomation:
Visit the Official Webpage of the MADE IN RWANDA Africa Blockchain Incubation Program 2021