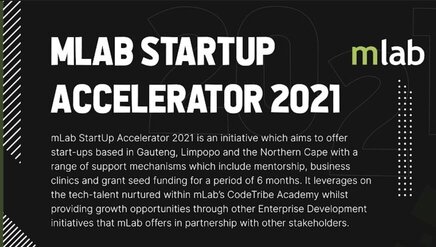 Application Deadline:4 October 2021
mLab StartUp Accelerator 2021 is an initiative which aims to offer start-ups based in Gauteng, Limpopo and the Northern Cape with a range of support mechanisms which include mentorship, business clinics and grant seed funding for a period of 6 months. It leverages on the tech-talent nurtured within mLab's CodeTribe Academy whilst providing growth opportunities through other Enterprise Development initiatives that mLab offers in partnership with other stakeholders.
The following criteria will apply when shortlisting applications.
1. CIPC registered business
2. Business vintage should be below 5 years
3. Business should be able to demonstrate market validation or market research of business concept and/or business viability
4. Business that are able to demonstrate turnover below R1 million per annum (pre-VAT)
5. Preference will be given to business between B-BBEE level 1 and level 4
6. Preference will be given to businesses with female directorship or shareholding
7. Preference will be given to businesses with youth directorship or shareholding
8. Businesses are recommended to have more than one team member in order to ensure business continuity and dynamism
Please note that due to the demand for the programme mLab will only be communicating with shortlisted applicants on the next steps and they will be notified via email. Kindly consider your application unsuccessful if you don't receive communication from us by 1 December 2021. mLab invite unsuccessful applicants to re-apply again when a new call has been advertised.
Closing date: 4 October 2021 at 16:00 South African Standard Time

For More Information:
Visit the Official Webpage of the mLab's StartUp Accelerator Program 2021