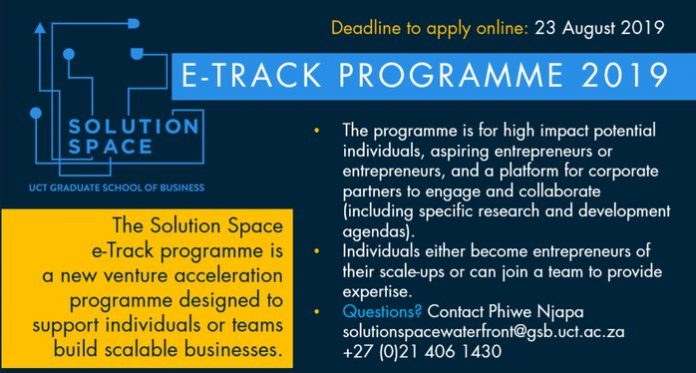 Application Due Date: August 23 rd 2019
The Service Area E-Track program is a new-venture velocity program created to support people or groups construct scalable services and created to target various age and stakeholders. The program is for high effect possible people, aiming business owners or business owners, and a platform for business partners to engage and work together (consisting of particular research study and advancement programs). People either end up being business owners of their scale-ups or can sign up with a group to offer competence.
Requirements:
• University of Cape Town & UCT Graduate School of Organisation existing trainees & alumni
• Development driven and high effect start-ups with worldwide capacity
• High-impact people (skill)
• Can be in a specific or a group of a minimum of 2 members (with a minimum of one GSB or Commerce student/alumni)
• Should have MVP
APPLICATION PROCEDURE:
• Candidates send online application by 23 August 2019.
• Total 5 weeks Endeavor Release Program at the UCT Graduate School of Organisation
Phiwe.Njapa on +27(0 )21406 1430 or [email protected]
To Find Out More
Check Out the Authorities Website of the MTN Service Area e-Track Program 2019
.