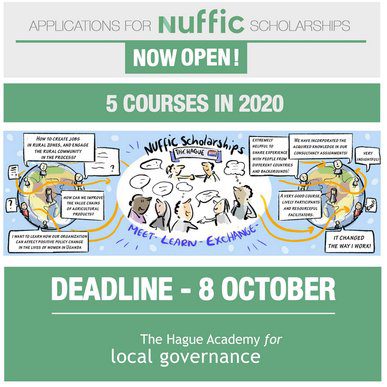 Application Due Date: 14 th March 2020
Nuffic scholarships are readily available for brief courses at The Hague Academy. Nuffic is a Dutch non-profit organisation which provides scholarships for training courses in The Netherlands. These scholarships look for to establish and reinforce the abilities and capabilities of specialists, in order to allow their organisations and neighborhoods to be successful in an ever-changing world. The Dutch Ministry of Foreign Affairs funds the Nuffic Scholarship program.
The Nuffic Scholarships for brief courses at The Hague Academy (OKP, MSP and StuNed) cover the tuition charge, return flights (from a worldwide airport to Amsterdam), insurance coverage, and lodging, in addition to a little Daily Subsistence Allowance. Follow the links listed below to learn more about the scholarship programs readily available, the application due dates and the application treatments.
Readily Available Courses:
Due Date 8 th October 2019 ( Registration opens 1st August 2019)
Due Date 7 th March 2020(Registration opens 15 th October 2019)
Due Date 4 th July 2020 ( Registration opens 14 th March 2020)
Financial Decentralisation and Regional Financing 2021 (Feb 2021)
To Learn More:
Check Out the Authorities Website of the Nuffic SCholarships 2020