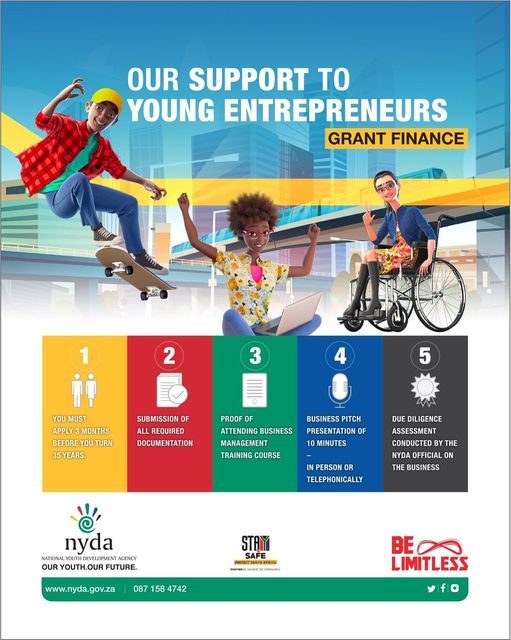 The Voucher Programme is a business support programme aimed at assisting young entrepreneurs by providing one-on-one business development support to access quality business development services through NYDA approved business consultancy service providers thereby enhancing their participation in the mainstream economy.
Young entrepreneurs access this service through vouchers, which range from R6 600.00 to R19 800.00. There is no contribution fee required for young entrepreneurs to participate in the programme. Each registered entity, is entitled to a maximum of two (2) vouchers as per business development phase.
Eligibility
The applicant must:
    Be between the ages of 18 and 35 years
    SA citizenship /permanent residence
    Must be willing to attend Entrepreneurship Development Training should the applicant not have entrepreneurial or business management background and/or qualification
    All members of the business entity must be between the ages of 18 to 35 years
    The business should be 100% youth owned
    The business should be operating within the borders of South Africa
Benefits

A voucher is used to purchase business support services from approved service providers.
Services on offer include, but not limited to:
    Business Feasibility
    Bookkeeping and Financial Administration
    Business Re-engineering
    Website development and hosting
    Business operations manuals
    Marketing Strategy and Plan
    Business Plan Development
Application Process:
The applicant obtains and complete an application form from www.nyda.gov.za
    Visit the nearest NYDA branch in their areas listed on the back page of this leaflet
    She/he submits the application form to an NYDA branch
    An assessment is conducted to assess the application and his/her business against the service they are applying for.
    If approved, the applicant needs to select an accredited service provider from the service provider directory (not supplier directory).
    On receipt of the voucher, the selected service provider provides the service and the applicant endorses the voucher on completion of the project.
    The service provider then submits the final product to the NYDA for payment.
For More Information:
Visit the Official Webpage of the NYDA Business Development Voucher Programme