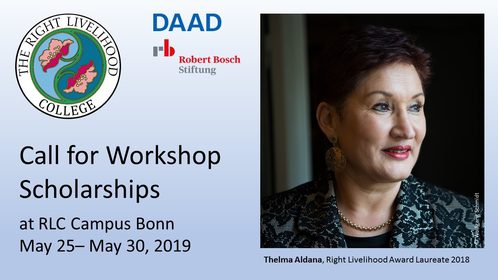 Application Due Date: March 31 st 2019
The RLC School Bonn uses scholarships moneyed by the German Academic Exchange Service ( DAAD) for PhD trainees from Latin America, Africa and Asia to take part in the worldwide workshop on " Mobilization for Modification: Marginalized individuals and their access to chances and resources in an establishing world", in May 25-30,2019
.
The workshop will be connected to the Welle Global Media Online Forum ( GMF) and concentrate on research study and practice interested in human rights of marginalized individuals and their access to chances and resources.
PhD trainees will have the ability to discuss their research study with2018 Right Income Award Laureate Thelma Aldana, human rights protector and previous president of the Supreme Court from Guatemala.
PhD trainees will be welcomed to discuss their research study operate in a cohesive trans disciplinary method by developing on each individuals' experience. The workshop will target the following goals:- to reinforce understanding and understanding of ideas of justice and marginalization in an advancement context, -to seriously examine the scenario of marginalized individuals in the existing advancement program, -to provide own case research studies worried, and-to promote transmission of proficiency and experience in between PhD trainees, advancement scholars, and 'Alternative Nobel Reward' Laureates.
Requirements:
PhD trainees from Latin America, Africa and Asia who perform topic-related research study from disciplines such as governments, advancement research studies, law, sociology, location, or ethnology.
Ideally in the middle/end of their research studies. Fluent English is mandatory.Women applications are especially welcome
Advantages:
The scholarships will cover all expenses for worldwide and nationwide travel, hotel lodging, catering, and working products. The workshop will be embedded in a range of social and cultural side-events.
How to Use:
Your application ought to include:
Finished online application. See under: https://rlcbonn.limequery.com/457947? lang= en
300 word abstract (in English) of your PhD task and a CV
The deadlineis March 31,2019 Welcomed individuals will be notified till April 11.
For concerns concerning the workshop, please contact Dr. Till Stellmacher: stellmacher@rlc-bonn.de.
For technical concerns concerning the application, contact Theresa Sander:sander@rlc-bonn.de.
For Additional Information:
Go To the Authorities Web Page of the Right Income College (RLC) 2019 International Workshop