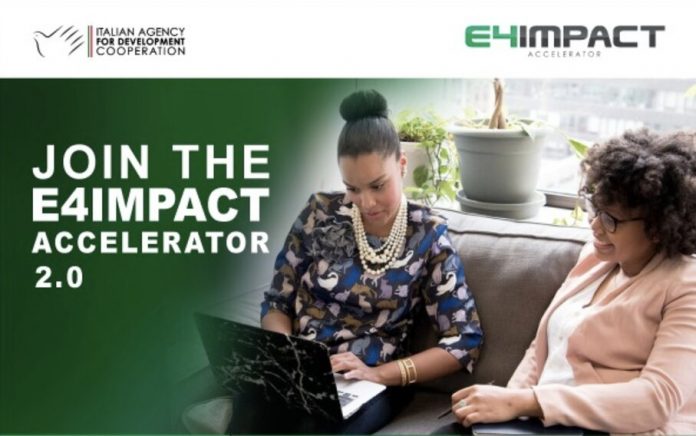 Application Deadline: 30th January 2022
E4Impact Foundation funded by the Italian Agency for Development Cooperation, have launched the Accelerator 2.0 to strengthen the enterprises in Kenya to grow their business, scale their impact, and access markets.
The E4Impact Accelerator program launched in 2018 has worked with over 300 enterprises across diverse sectors to grow their business and scale their impact through a portfolio of entrepreneurial programs and services. In the launch of the second phase of the Accelerator, E4Impact will work with 40 enterprises per year – 30 growth stage enterprises and 10 early-stage enterprises and provide the following services and benefits below.
Eligible Sectors
– Agri – Food
– Manufacturing
– Green Business & Renewable Energy
– Leather
– Fashion & Design
– Technology
Program Benefits
Every year, E4Impact Accelerator runs a recruitment cycle to recruit entrepreneurs to join the 12 months Accelerator program.
Join the 12-month program to access:
Innovative scale ups (3+ years) with an established product-market fit
Post-revenue with minimum turnover of USD 30,000 or more
Have a full time team with complementary skills
Clear social or environmental impact
Incubation Program
Application Criteria
Start-ups (1-3 years) with a validated Minimum Viable Product (MVP)
The product should be innovative, commercially viable & scalable.
Start-ups that have high potential for impact.
Passionate entrepreneurs who are ready to learn.
Timelines
Application Deadline: 30th January 2022
Applicants who wish to join the Program should have summited all the required documents and forms.31st Jan to 3rd Feb
Review of applications
During this period our panel of experts will carefully review every application in order to select the teams best suited to join the program.
Announcement of Shortlisted Applicants
A list of the shortlisted candidates will be made public and the selected applicants notified. 8th – 11th February: Shortlisting
The shortlisted applicants will present themselves to our team for final evaluation. 14th to 25th February
The necessary due Diligence processes will be carried out during this period.
The final list of selected applicants will be announced.9th – 11th March
Official commencement of the acceleration and incubation programs.
For More Information:
Visit the Official Webpage of the E4Impact Accelerator Program 2022