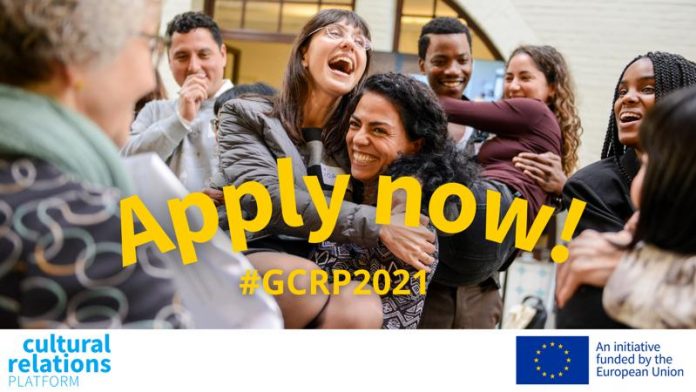 Application Deadline: October 4th 2021.
Would you like to broaden your skills in international cultural relations and network with cultural and creative practitioners around the world?
The Global Cultural Relations Programme (GCRP) is a unique opportunity for changemakers and innovators in the cultural and creative sectors.
Apply for the opportunity to develop lifelong skills, increase your knowledge, build your international network and receive support to engage in international cultural relations. You will also be able to develop concrete international collaboration projects with your peers.
This year the GCRP will take place online from 15 to 30 November 2021.
Eligibility
60 changemakers, professionals and entrepreneurs in the cultural and creative sectors
You should be aged 25-39, with at least three years' experience in international collaboration or international cultural relations, and an interest in further developing your skills
You could work for a public, private or civil society organisation, or be a freelancer
You will need to be able to commit to the programme throughout its duration from 15 to 30 November
Benefits
Build your skills in international cultural relations through a carefully designed, interactive training programmeNetwork and collaborate with professionals from around the world, facing similar challenges and opportunities
Join the community of 120 alumni on a long-term basis.
Alumnis hear from us regularly about international opportunities and help to shape future editions of the programme.
How to Apply
Fill in the application form using the link below by midnight Central European Time, 4 October 2021. You will need to provide information on your professional experience, explain your motivations for applying and how you meet the criteria above. 
If you reach the next stage in the application process, we will ask you to send us a very short video about yourself for us to get to know you better and make the final selection of participants for GCRP 2021.

Timeline
15 – 18 November: knowledge sharing and peer-to-peer learning (4 x 3 hour sessions)
19 – 28 November: develop an international cultural project with other participants and mentors
29 – 30 November: project presentations and closing (2 x 3 hour sessions)
For More Information:
Visit the Official Webpage of the EU Global Cultural Relations Programme 2021