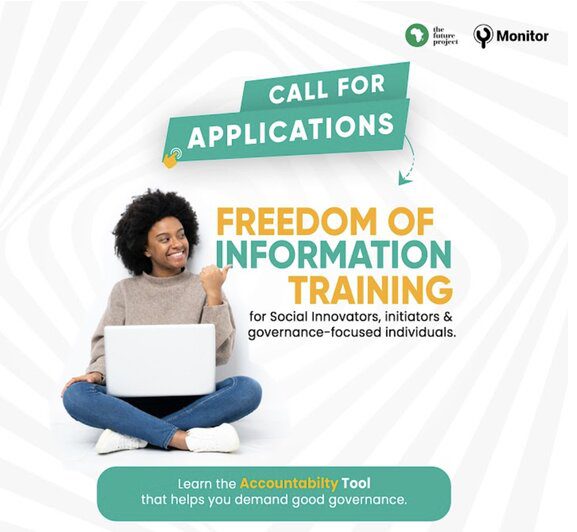 Application Deadline: February 12th 2021
The training equips participants with the knowledge of the Freedom Of Information Act, as well as how to make a request & several other reference materials that can aid in getting information from government/public institutions.
The FOI training will ensure further increase in awareness & interest in the Act. It would serve as a benchmark towards sustaining the increasing culture of demanding transparency in governance. It could further help improve performances of public officials & institutions, by serving as a tool of accountability therefore checking their activities.
Structure of the training
These innovators/ambassadors will continue to engage students in higher institutions, youths on how to use the guide & the FOI Act. While the Ambassadors will continue to create awareness about the Act & process of making a request.5 reps

Representatives will be chosen.6 zones
Six (6) geopolitical zones in Nigeria.30 trainees
Inducted as FOI ambassadors.
Requirements
Young persons between the ages of 18-35 years, who have interest in governance, have the intellectual capacity & willingness to engage government institutions.
Innovators/Initiators/activists who are interested in a transformative, performance-driven government.
Creativity/Innovation
Level of creativity/innovation applied and their entrepreneurial approach towards social change.
Leadership
Experience mobilizing people and resources to achieve set goals, and consistent drive for excellence.
Sense of Purpose
Demonstrate strong desire for social change within the community, to improve livelihoods and to scale the impact of their social business.
Right Attitude
Openness to learning and willingness to implement appropriate learnings into governance building & sustainability.
Key dates to note:
Call for Applications: Jan 18 – Feb 12
Applicants are shortlisted: Feb 12 – Feb 19
Applicants are reviewed & selected by a Jury: Feb 19 – Feb 24
Applicants are announced (only shortlisted candidates will be contacted): Feb 24 – Feb 25
FOI Training Days: Feb 27
Trainees are Inducted as FOI Ambassadors: Feb 27
Ambassadors distribute the step-by-step request guide within their region: Mar 01 – Mar 19
For More Information:
Visit the Official Webpage of the Future Project YMonitor 2021 Freedom Information Training