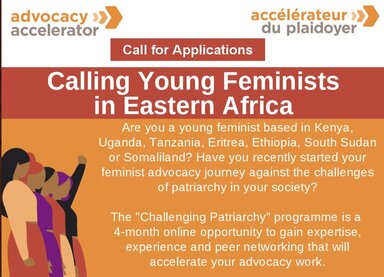 Application Deadline: August 9th 2021
Are you a young feminist in Eastern Africa? Do you want to accelerate the impact of your advocacy work? 
The Heinrich Böll Foundation in collaboration with Advocacy Accelerator has launched an advocacy capacity strengthening programme designed for young feminists based in 7 countries in East Africa. The Challenging Patriarchy Programme is designed to increase your knowledge and strengthen your advocacy capacity to transform the lived experiences of women and girls within your local or national context.
As a candidate for this programme, you will be expected to fulfil the following:
Give your full commitment to complete the entire 6-month period is a prerequisite.
Actively engage with the content of the programme as a means to deepen your learning. 
Commit to sharing your experiences gained before and during the programme with fellow young feminists. 
Practice self-awareness, accountability and respect for fellow programme candidates.
The  programme starts on Wednesday, 1 September 2021.
The Challenging Patriarchy Programme will run for 6-months on a part-time schedule, and you will be part of a cohort of fellow feminists who will learn feminist theory and practice.
You will participate in interactive in-person and virtual spaces to receive coaching and support to empower your learning across sectors and countries.
This programme is a unique opportunity to build a network of peer feminist advocates.
Your engagement in course content via either self-led reading and reflection activities or participation in live webinars.
Discussion, learning and exploration of topics including social justice, feminist economics and intersectionality.
This program will provide you with the opportunity to develop joint cross-country campaigns that challenge the status quo of patriarchy.
For More Information:
Visit the Official Webpage of the Heinrich Böll Foundation Advocacy Accelerator Program 2021