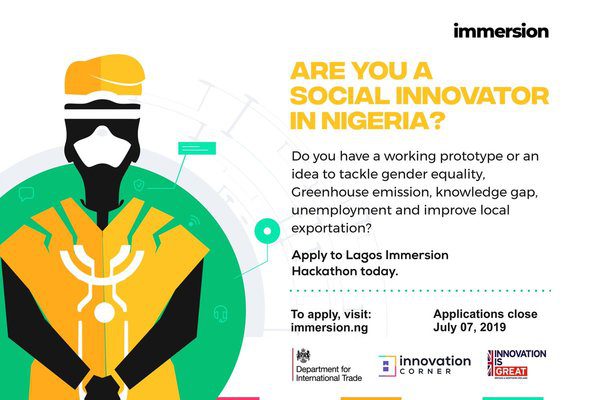 Application Due Date: July 7th 2019
The UK Federal government's Department for International Trade (DIT) in collaboration with Development corner is introducing Lagos Immersion. A brand-new difficulty which intends to light up the strengths of the African innovation scene and motivate higher financial investment; specifically those which deal with a few of the macroeconomic and advancement obstacles of the continent.
Difficulty focus
How will you harness tech to support Nigerian business to do more service globally?
How would you utilize tech to increase gender equality?
How will you utilize tech to fill the skill/knowledge space existing in the economy; taking into factor to consider the digitally left out portion of the population?
How will you harness tech to minimize the joblessness rate in Nigeria?
How would you utilize innovation to minimize greenhouse gas emissions?
Advantages:
Effective candidates will get an invite to the Lagos Immersion hackathon on July 10, 2019, and winners will get the following:
Winners will be coupled with coaches with financial investment background and access to a larger network for 4 months.
Winners will be welcomed to the Beyond Nigeria networking session.
with the Deputy High commissioner of the UK High Commission in August.
2019 and subsequent sessions.
The chance to pitch your concepts to prospective financiers and partners in Nigeria and the UK.
Winners will get assistance from the Department for International Trade and Development Corner.
Access to regional and foreign Immersion business partners.
For Additional Information:
Go To the Authorities Web Page of the DIT Lagos Immersion 2019
.