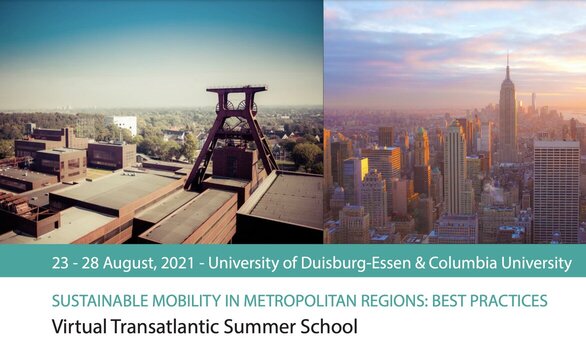 Application Deadline: July 25, 2021.
The Centre for Logistics and Traffic will organize another transnational summer school this year which is sponsored by the German Academic Exchange Service ("Deutscher Akademischer Austauschdienst"). This year's summer school is going to be held online together with the Center for Sustainable Urban Development of the Columbia University (CU) in New York from August 23 to August 28, 2021. The key topic of the summer school is sustainable mobility in metropolitan regions.
As collaboration between the Columbia University in New York and the University of Duisburg-Essen, we offer the fourth Summer School "Emerging Concepts of Logistics (ECoL)" taking place virtually from August 23 to 28, 2021 (8 am EST, 2 pm CEST). Students in their graduate studies (preferably in advanced study semesters or with a potential thesis topic), PhD students as well as Post-Docs interested in sustainable mobility concepts are invited to submit their applications
Participation requirements
Background in sustainable urban mobility, innovative transport solutions, logistics, new technologies in mobility or related discipline
Good knowledge in the English language
Timely application
Access to the Internet, camera, headset, microphone
Important note: Attendance at the Summer School is free of charge. The ECoL Summer School on "Sustainable Mobility in Metropolitan Regions: Best Practices" is funded by the German Academic Exchange Service – DAAD (Deutscher Akademischer Austauschdienst).
For More Information:
Visit the Official Webpage of the Virtual DAAD Summer School 2021