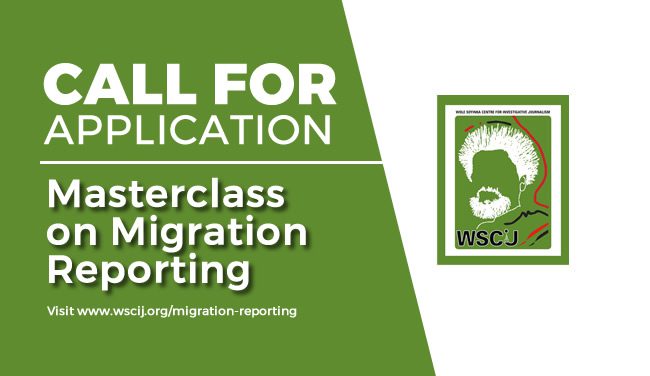 Application Due Date: 18 th August 2019
.
The Wole Soyinka Centre for Investigative Journalism (WSCIJ) welcomes Nigerian expert investigative press reporters (full-time or freelance) from the print, online and broadcast specializeds to get a two-day masterclass on migration reporting in line with the organisation's Media Engagement on Migration Reporting program supported by The United Nations Educational, Scientific and Cultural Organisation (UNESCO)
Media Engagement on Migration Reporting is targeted at making sure that the most susceptible individuals, especially the youths, have access to appropriate info and understanding of the risks and the advantages of migration. The emersion training is tailored at constructing the capabilities of reporters to examine and much better report migration concerns in West Africa and to Europe.
Tentative training date: 29-30 August 2019
Note
Candidates should have appropriate works showing their mastery at investigative reporting in the beat under focus or other ones.
To.
prevent loss of info, please copy concerns and responses on a.
different sheet, then copy and paste responses in the kind and send at.
when.
Female reporters are motivated to use.
Candidates dealing with specials needs are motivated to use.
Just shortlisted candidates will be gotten in touch with.
To Learn More:
See the Authorities Web Page of the WSCIJ 2019 Masterclass on Migration Reporting