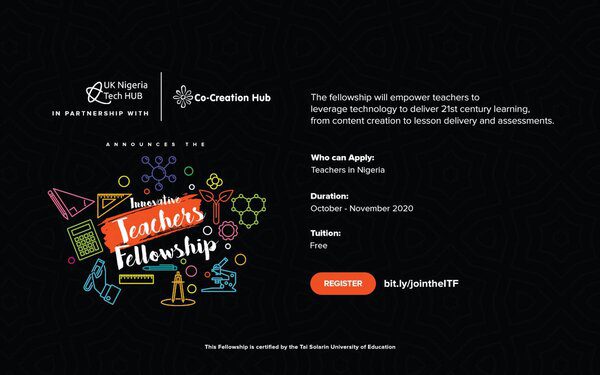 Application Deadline: October 23rd 2020
Are you a teacher in Nigeria? Do you want to develop new teaching skills? Apply now for the UK-Nigeria Tech Hub/CcHub Innovative Teachers Fellowship 2020.
Co-Creation Hub Nigeria has launched a six-week intensive program – Innovative Teachers Fellowship – for teachers sponsored by the UK-Nigeria Tech Hub and certified by the Tai Solarin University of Education, for STEM and Non-STEM teachers in Nigeria.
The course is open to 300 teachers and will focus on upskilling them to leverage technology for the creation and development of learning content for their students, especially around the use of digital tools to support virtual learning.

The Innovative Teachers Fellowship is a 6-week intensive program designed for teachers in Nigeria to provide 21st-century teaching skills focused on the use of technology to create interactive learning content for students and the use of digitals tools to support learning.
This Fellowship is in partnership with the Uk/NG Tech Hub and graduating teachers will be issued certificates from the Tai Solarin University of Education.
For More Information:
Visit the Official Webpage of the UK-Nigeria Tech Hub/CcHub Innovative Teachers Fellowship 2020