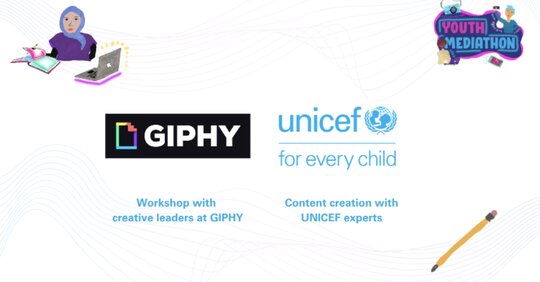 Application Deadline: August 6th, 2021
UNICEF is looking for young content creators 15 to 22 with skills in animation and GIF creation to take part in the second edition of the UNICEF Youth Mediathon, supported by GIPHY.
The Youth Mediathon is UNICEF's online content creation program, in which you will learn digital storytelling skills, connect with other creators and develop multimedia projects on the issues you care about.
As part of this group, you will take part in a workshop about content creation for digital platforms, and work with young people around the world and top creative professionals to develop an animation based project to create GIFs for World Children's Day, UNICEF's annual day of action for children, by children. This project will have the support of GIPHY and UNICEF mentors.
UNICEF's Youth Mediathon is an online skills building program that gives you the opportunity to improve your abilities as content creator and work with other youth to develop multimedia projects about the issues affecting young people today.
Join one of our 2021 classes, led by top professionals in leading creative firms like GIPHY, and top creators like Atticus and IN-Q. You will have a chance apply the learnings from the program to create and publish your own content with UNICEF.
Our 2021 edition will launch on August 12th to mark International Youth Day. Check out the different classes available to you and apply to the one(s) that best fits your skills and interests before August 6th.
Apply Now for the UNICEF Youth Mediathon 2021
For More Information:
Visit the Official Webpage of the UNICEF Youth Mediathon 2021