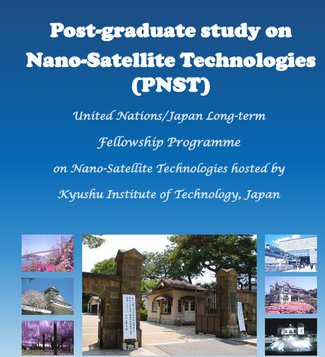 Application Deadline: January 10th, 2022
The United Nations Office for Outer Space Affairs and the Government of Japan in cooperation with the Kyushu Institute of Technology (Kyutech) have established a United Nations/Japan Long-term Fellowship Programme on Nano-Satellite Technologies for nationals of developing countries or non-space-faring nations. The Programme will provide extensive research opportunities in nano-satellite systems through the use of the  nano-satellite development and testing facilities available at Kyutech.
Every year this "Post-graduate study on Nano-Satellite Technologies (PNST)" Fellowship Programme will accept up to three students in the Master's Program (2 years duration) and up to three students in the Doctoral Program (3 years duration). Successful participants will be awarded a master or doctoral degree after successful thesis defence. The successful candidates will enroll in the Space Engineering International Course (SEIC) after passing an official entrance examination by the Graduate School of Kyushu Institute of Technology.
Benefits

The selected candidates will each receive a grant under Japanese government (Ministry of Education, Culture, Sports, Science and Technology: MEXT) scholarship (Research Students) of approximately 144,000 JPY per month for the duration of their fellowship study (2 or 3 years) to cover housing, food, local transportation, and other expenses.
Each candidate will be provided, according to his/her itinerary and route as designated by MEXT, an economy class air ticket between an international airport in the country of his/her nationality and an international airport in Japan used on the normal route to the accepting university.
Fees for matriculation, tuition and entrance examinations will be paid by Kyutech.
The purpose of this fellowship is to help non-space-faring nations join the community of space faring nations.  Consequently, if you are selected as a PNST Fellow through the aforementioned process and you earn your advanced degree at Kyutech, you have an immense moral obligation to return to your home country and contribute to it. This is the central expectation of both UNOOSA and Kyutech.
Application Requirements
Applicants should:
Timeline
The timeline anticipated for the selection process of the Fellowship Programme is as follows:
From August 2021: Dissemination of information on the Fellowship Programme to potential candidates worldwide and application period.
10 January 2022(Monday, 23:00 JST): Submission deadline – all application documents must be received by PNST except in exceptional cases.
February 2022: After the first round of selection based on the application documents, the remaining candidates will be notified regarding interviews about two weeks after the submission deadline.
February 2022: The first interview will be held in February 2022. The second interview (if necessary) will be held after the first interview. The interviews will be conducted remotely. All the applicants shall make themselves available for these days. The outcome of the remote interviews is the selection of six persons who will be offered PNST scholarships.
March 2022: After the interviews, all PNST applicants will be informed about the outcome of their applications to PNST. We will contact you. Please do not contact us.
February-June 2022: Discussion and finalization of research and study plan between the successful candidates and their supervisors.
Early March 2022: Selected candidates must send all the required documents including original certificates of graduation, original transcripts, and original English test score with explanation of transcripts to Kyutech using a reliable express mailing service. If any documents are written in any language other than English, official certified translations are also required. For the details of the required documents, please refer to the Checklist. 
July 2022: Official entrance exam to Kyutech. Formal admission and administration to obtain student visa.
August 2022: Travel arrangements for the candidates to Japan. Candidates need to find and book temporary accommodations in Japan by themselves.
September 2022: Arrival in Japan and finding accommodation. Official enrollment procedures at Kyutech.
October 2022: Beginning of the Fellowship Programme at Kyutech.
Submission Procedure
The fully completed application form and other required documents except the referee report forms shall be submitted in electronic format (.doc or .pdf or.xls) at the Web address that is in the confirmation e-mail you will receive after registering above, by no later than 10 January 2022 (Monday, 23:00 JST). If not fully completed at the time of the deadline, the application will be deemed to be not qualifying. 
Note: For file a name, do not use any non-English characters. Moreover, each character must be a one-byte type of character. As well, do not use spaces in your file names as the file server will not handle such data correctly. Use "_" (under bar) or "-" (hyphen) instead, e.g. "01_Tom_Smith_2021.12.24".
The Referee report forms should be sent by email to the Post-graduate study on Nano-Satellite Technologies (PNST) (pnst [at] space-kyutech.net) email address by the referees themselves by no later than 10 January 2022 (Monday, 23:00 JST).
For More Information:
Visit the Official Webpage of the UNOSA/Japan Long-term Fellowship Programme 2022