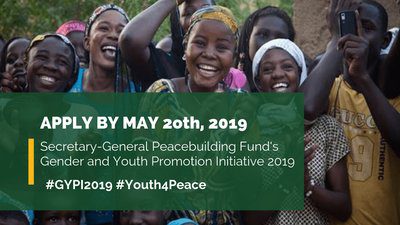 Application Due Date: May 20 th 2019
The United Nations Secretary-General's Peacebuilding Fund's (PBF) Gender and Youth Promo Effort #GYPI is an expression of the Fund's dedication to inclusive peacebuilding. It supports the empowerment of ladies and the improvement of gender equality and acknowledges the function of youths as main to the significance and efficiency of PBF's general peacebuilding portfolio.
Through the effort the PBF looks for to increase its effect and advance the execution of the Secretary General's Seven-Point Action Intend On Gender-Responsive Peacebuilding, Security Council resolution 1325 (2000) and others on Females, Peace and Security, and Security Council resolution 2250 (2015) on Youth, Peace and Security.
The call for propositions is open to UN Agencies, Funds and Programmes.
and CSOs in nations stated qualified by the Secretary-General to.
get PBF financing in 2019:
Burkina Faso
Burundi
Main African Republic
Chad
Colombia
Côte d'Ivoire
Democratic Republic of the Congo
El Salvador
Guatemala
Guinea
Guinea Bissau
Kyrgyzstan
Liberia
Madagascar
Mali
Myanmar
Niger
Papua New Guinea
Sierra Leone
Solomon Islands
Somalia
South Sudan
Sri Lanka
The Gambia
Yemen
Organizations
This year's require the GYPI obtains propositions from both civil society companies (CSOs) and UN Agencies, Funds and Programms (UN AFPs).
UN Agencies Funds & Programmes
2 genders & 2 youth propositions per UN Nation Group
$800,000 to $1,5 million grants per job
Joint propositions with as much as 3 UN companies per job
Tasks should be backed & sent by the UNRC
Approximately 18 months
Civil Society Organizations
2 gender & 2 youth propositions per CSO
$300,000 to $1,5 million grants per job
Click here for eligibility requirements
Approximately 18 months
Application Treatment:
Submit principle notes through the online website
by May 20, 2019
Picked candidates will be welcomed to send complete job propositions in early September
GYPI 2019 Note d'orientation
To Find Out More:
See the Authorities Web Page of the Secretary-General Peacebuilding Fund's Gender and Youth Promo Effort 2019