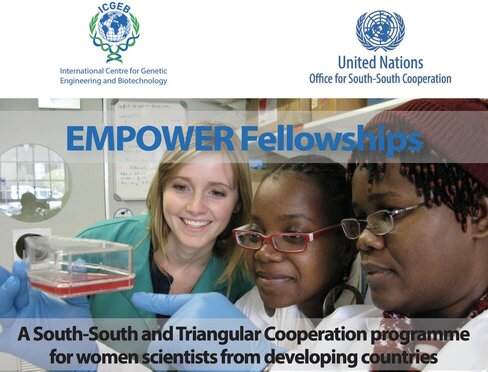 Application Deadline: September 31st, 2021
The United Nations Office for South-South Cooperation (UNOSSC) under its Youth4South initiative and the ICGEB have partnered to offer early-career female scientists from the Global South, aged 45 or under, exchange visits of 6-months at the ICGEB laboratories in New Delhi (India) and Cape Town (South Africa) or at other institutions based in an eligible ICGEB Member State*, to perform research work on biotechnology and related fields, including Health (Infectious Diseases and Non-Communicable Diseases), Sustainable and Effective Agriculture, Industrial Biotechnology and Renewable Energy.
Requirements
Applicants from the following ICGEB Member States are eligible to apply. Priority will be given to nationals from developing countries, particularly from Least Developed Countries:
Afghanistan, Algeria, Angola, Argentina, Bangladesh, Bosnia and Herzegovina, Brazil, Burkina Faso, Burundi, Cameroon, Chile, China, Colombia, Costa Rica, Cote d'Ivoire, Cuba, Ecuador, Egypt, Eritrea, Ethiopia, India, Iran (Islamic Republic of), Iraq, Jordan, Kenya, Kuwait, Kyrgyzstan, Liberia, Libya, Malaysia, Mauritius, Mexico, Moldova (Republic of), Montenegro, Morocco, Namibia, Nigeria, North Macedonia, Pakistan, Panama, Peru, Qatar, Russian Federation, Saudi Arabia, Senegal, Serbia, South Africa, Sri Lanka, Sudan, Syrian Arab Republic, Trinidad & Tobago, Tunisia, Turkey, United Arab Emirates, United Republic of Tanzania, Uruguay, Venezuela (the Bolivarian Republic of), Viet Nam, Zimbabwe
In case of emergency related to COVID-19, the programme may be subject to adjustments
Benefits
The fellowships will include:
Stipend, health insurance and travel
Applying the latest techniques and methodologies to your chosen research topic
Opportunities for mentoring, peer-to-peer learning and complementary skills Immersion in a top-class international scientific environment
Financial Support
Duration: 6 months
Monthly stipend: US$ 1,800 or equivalent
Travel: the fellowship includes provision for travel expenses from the participant's home country to the host lab at the beginning of the fellowship and a return travel provision upon completion of the fellowship.
Medical health insurance coverage is provided for the duration of the fellowship.
Visa/permit of stay application and renewal costs are reimbursed.
ICGEB makes no financial provision, nor can it provide administrative support for family members of participants in the programme
How to Apply
Applicants should contact the ICGEB Group Leader of their choice in New Delhi or Cape Town or the Principal Investigator of the identified hosting laboratory in one of the eligible ICGEB Member States* by sending a motivation letter and an outline of the proposed research project (2 pages maximum), to determine availability of laboratory space and define the proposal that will form integral part of the application.
Proposed projects must be innovative and fall within ICGEB research domain namely Infectious Diseases, including research on SARS-CoV-2, Non-Communicable Diseases, Medical Biotechnology, Industrial Biotechnology, and Plant Biology and Biotechnology (please see https://www.icgeb.org/science/ and ICGEB laboratories in New Delhi and ICGEB laboratories in Cape Town).
The written statement from the Principal Investigator who is willing to support your project is mandatory to apply.
For More Information:
Visit the Official Webpage of the UNOSSC Youth4South & ICGEB Empower Fellowship 2021