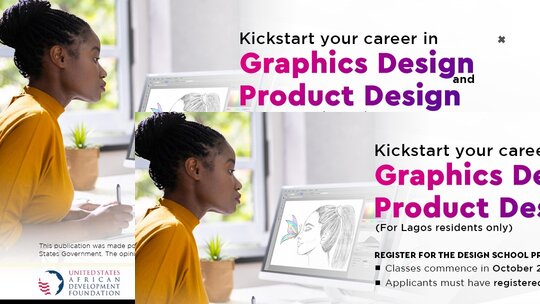 Program Starts: October 25th, 2021
The Design School Lagos Program aims to equip Lagos residents with graphic design, product design, and workplace skills while also creating the necessary exposure that is needed for them to launch their careers and earn income in the technology sector and beyond.
Implemented as part of the Lagos State Employability Support Project, the program is funded by the Lagos State Employment Trust Fund (LSETF) and the United States Africa Development Foundation (USADF) and it is implemented by NerdzFactory Company.
The goal of the program is to equip young people with design skills, soft skills and entrepreneurship and also connect them with economic opportunities while also helping businesses have access to skilled talent.
Program Details

60%The program is 60% physical and 40% virtual.
More details will be sent to successful applicants.
6 weeks: The training will run for 6weeks of intensive teaching and learning.
21%Design Jobs are set to grow by 21 percent in 3 years.
ELIGIBILITY CRITERIA
Residing in Lagos
Between 18 and 35 years
Availability for the entire training duration
Post secondary education
PROGRAM BENEFITS
100% tuition scholarship
Training in graphics design
Training in product design
Soft skills training
Training allowance
Internship placement for top-performing trainees
Mentorship
COURSE MODULES
GRAPHICS DESIGN
Design Elements, Design Principles & Design Thinking
Typography
Design Inspiration And Research
Designing Logos, Business Cards, Book Covers, Event Fliers, Movie Posters, E.T.C.
Pictures, Gradients & Professional Colour Schemes
Canva Masterclass
PRODUCT DESIGN
Introduction To UI/UX Design
Product (UI/UX) Design Using Figma
Research In Product Design
Iconography
Visual Hierarchy
Prototyping
Handoff
SOFT SKILLS
Emotional Intelligence
Effective Communication
Problem Solving And Critical Thinking
Building Your Project Portfolio
Monetizing Your Skill
Freelancing
Getting Your First Design Job
Starting Your Business
For More Information:
Visit the Official Webpage of the USADF/LSETF Design School Lagos Program 2021